***** please be advised sruane@fieldmuseum.org is the email address to contact Sara (there is no access to previous email accounts!)*****
---
---
Coming at you from the Midwest, the Chicagoland Guide to Common Reptiles and Amphibians! Hard copies through Sara or Michelle Thompson, but feel free to print and use! click here: FMNH herp field guide
---
New species alert! Check out the new species of homalopsid, Hypsiscopus murphyi! Named after famed homalopsid expert John Murphy, this paper includes a lot of Field Museum folks—Harold Voris, Bryan Stuart, and myself, as well as who the snake is named for! Learn more about it here from the lead author, Dr. Justin Bernstein: https://podcasts.apple.com/us/podcast/a-new-species-of-homalopsid-snake-with-justin-bernstein/id1550024934?i=1000583033614
---
Hot off the presses, more more more! (milkshakes!…or maybe milksnakes!)
still in the proof stage, but corrected
https://academic.oup.com/sysbio/advance-article-abstract/doi/10.1093/sysbio/syab093/6433690?redirectedFrom=fulltext
---
Paper with former postdoc Dr. Eric Rittmeyer and Rutgers-Newark LSAMP student Ahmed Almonier on the phylogeography of rough greensnakes is now out! Check it out here (uncorrected proofs) hpet-55-04-05_1..12
---
Ruane Lab graduate student Justin Bernstein, at Rutgers-Newark, recently got his first paper from his dissertation out, investigating the systematics of the homalopsids aka mud snakes!
Not only that, but he also won best student presentation presenting this and upcoming work for the SSAR Seibert award at the Joint meeting of Ichthyologists and Herpetologists 2021!!! Woohoo!
Read about it here https://sararuane.files.wordpress.com/2021/04/bernstein-et-al-2021.pdf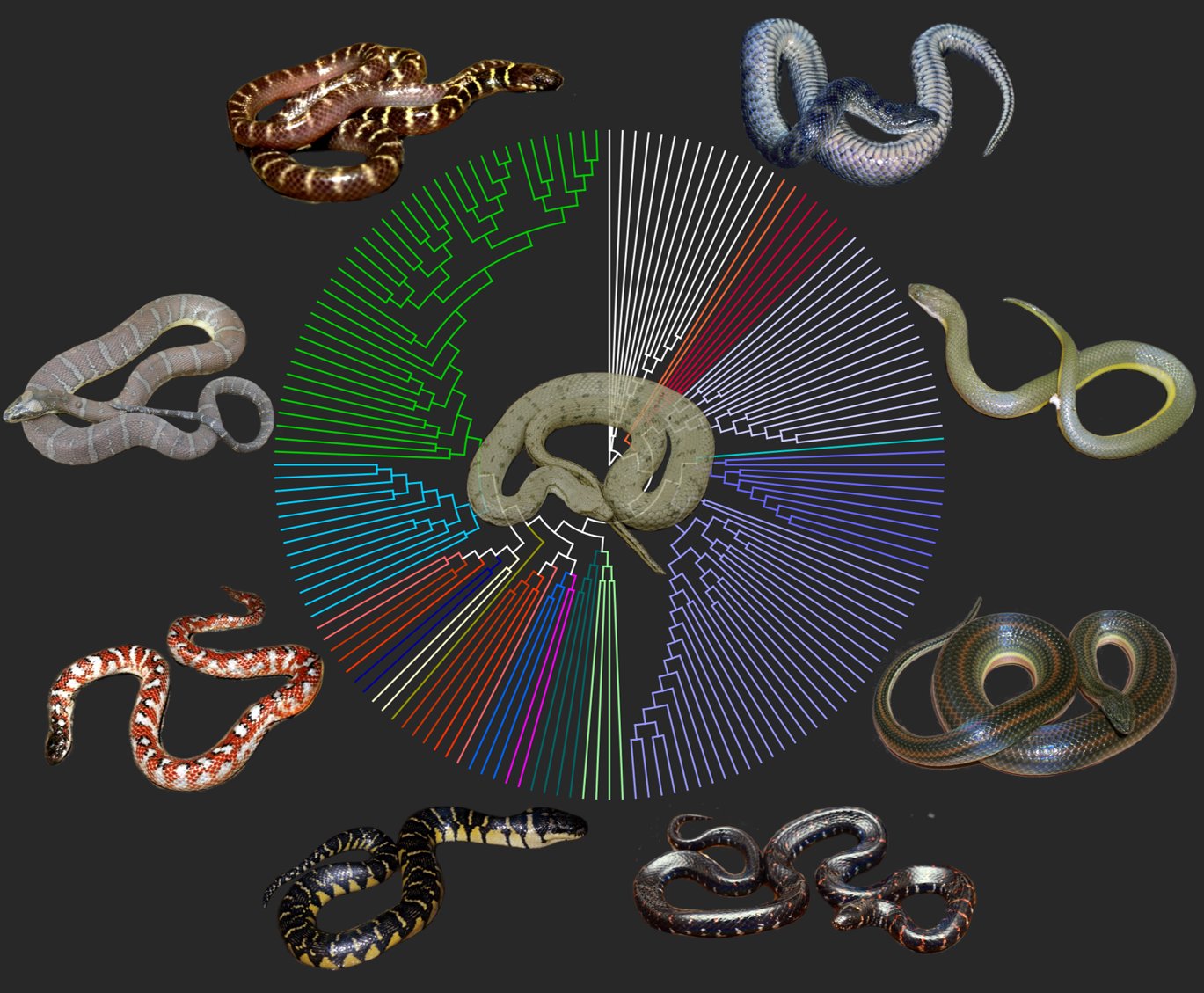 ---
Papua New Guinea, here we come (…let's hope for 2022 since 2020-21 was a wash!)!
PI Ruane was recently was recommended for NSF funding through the Advancing Revisionary Taxonomy and Systematics program (ARTS). Will be working with collaborator Chris Austin at LSU on clarifying and updating the taxonomy of some of New Guinea's poorly studied snakes. Can't wait to get started (first trip slated for 2020)!
---
Bringing Baja Sur, Mexico to Rutgers! Are you an undergraduate who wants to gain field experience??? Check out this writing intensive (learn to keep a field notebook like the one shown below!) summer (Baja) and this coming winter (Guyana) course taught by myself and Jessica Ware. This counts as a 2 credit lab course for biology majors!
Above: From our 2019 summer tropical field course to Islands and Seas Field Station
We will run this again in Winter and Summer Session 2019/2020,  so please let us know (via email!) sooner than later if you want to attend then!
COME TO MEXICO THIS SUMMER TO LEARN FIELD
---
Are you an undergraduate looking for research experience this summer?
SUMMER RESEARCH INSTITUTE
The Graduate School-Newark is pleased to offer undergraduate students from
around the country an opportunity to prepare for graduate school. We
encourage current juniors and rising seniors in the areas interested in
pursuing graduate degrees in the areas of Behavioral & Neuroscience, Biology,
Chemistry, Earth & Environmental Sciences, Physics and Psychology to apply
for this 10-week guided research program with world class faculty.
•Fee waiver when applying to Rutgers programs
•Graduate school application support
Summer Research Institute Application FILLABLE[1]
---
Baja Summer 2018!
2017 Baja trip, visiting the local school via the community center at the end of the trip!
---
Really excited to be helping out the NJ 4-H Program with their monthly herpetology blog. You can check it out here! The first post is up and is all about what permits you need to keep a pet herp in NJ.
RUTGERS ANIMAL SCIENCE 4-H CLUB: HERPETOLOGY
---
If you're in Boyden Hall, come by the 4th floor and check out the display from undergraduate Marvella Nelson, on snake bite statistics and see some preserved specimens of NJ's snakes!
---
Where isn't Bipes at this point!?
---
Official call for proposals here
updated HL Call for Proposals 2019 Meeting
---
Amazing time with Islands and Seas in Baja, MX. A major highlight, Bipes biporus !
---
Excited about the coming field season, some of my pics from past fieldwork and projects to get in the mood!
Leptophis, Mastigodryas, Thecadactylus, Oxybelis, Agalynchnis, Panama 2009
Crotalus, Tantilla, and Scaphiopus, NM 2013
Lachesis muta, Oxyrhopus petola, and Micrurus ibiboboca, Brazil 2011
A smattering of field photos of me doing basically the same thing in Madagascar, Panama, Arkansas, Brazil, Mexico, Alabama, Nebraska, North Carolina, Illinois, and Baja!
---
Baja Field Course 2017!!!!!!!!!!!! Come and learn about herp field techniques from me, plus about other cool organisms with people from the California Academy of Sciences.
Details here 2017 Science and Surf
---
Our new paper describing a method to get thousands of loci from old and fomalin-preserved specimens is now available at Molecular Ecology Resources!
Links to some of the popular media about the paper:
https://www.ncas.rutgers.edu/ru-n-biology-professor-unlocks-method-sequence-dna-preserved-specimens
http://www.lsu.edu/mediacenter/news/2017/01/24mns_austin_molecularecology.php
http://www.theadvocate.com/baton_rouge/news/education/article_a2f0bf42-e736-11e6-9e51-a7ebe225e20f.html
http://www.lsunow.com/daily/lsu-researcher-develops-method-to-extract-dna-from-preserved-extinct/article_696536dc-e8d9-11e6-a8c1-134549f6ed8b.html
---
Assistant professor at Rutgers University-Newark as of Jan. 2017! If you are interested in reptile systematics, especially snakes, please contact me at sara.ruane@rutgers.edu. I am actively recruiting students for my newly established lab.
---
Our paper describing a new species from Madagascar, Madagascarophis lolo, is out in Copeia!
Check out some of the news coverage as well!
New York Times
Video from CNN.com
http://www.cnn.com/videos/us/2016/09/07/new-snake-species-orig-tc.cnn
The LSU Daily Reveille!
---
---
---
Had amazing time with Islands and Seas in San Juanico, Baja California Sur! Just a sampling of some of the herps:
My fave find, Baja endemic Pituophis vertebralis
Yellow and black forms of Masticophis fulginosis
Crotalus ruber (who was hanging out under the field site camper for at least a little while)!
Keying out snakes (Salvadora hexalepis) with students in the course.
Sceloporus zosteromus, all around the campsite
Phyllodactylus xanti
---
Excellent time as usual at JMIH 2016! Featuring Sean Graham, myself, and Frank Burbrink for the SSAR Auction dream team; Representing LSU with Carl, Bill, and Fernando; With old man Cope +  Sean Harrington and Arianna Kuhn.
---
Check out pics from Louisiana Earth Day here! The Advocate
---
Interested in doing a field course in Baja this summer? I, along with some awesome people from CAS, will be teaching field techniques for herps (maybe see a Bipes !), inverts, mammals, and birds. It is going to be totally awesome! Learn more here 
---
Just got my copy of Fly Guy Presents: Snakes, by Ted Arnold (see here). Great book series for kids that I helped contribute to with some knowledge and some pics (including my picture in the book 🙂 )
---
New episode of Shelf Life, which deals with extinction, and where I get to talk all about golden toads (Incilius periglenes)!
---
American Museum of Natural History Family Party Herpetology table I hosted, teaching kids about coralsnakes versus kingsnakes!
---
---
New video from AMNH SRMP program featuring my work as a mentor with India Futterman and Maya Juman, now gurus of Malagasy snake morphology!
---
Second conference of the summer just wrapped up, Joint Meeting of Ichthyologists and Herpetologists in Reno, NV. Saw a ton of friends and colleagues and some great talks!
Fun times with a plethora of herpetologists at the Herp League Social!
AMNH women in science (herps and fish) represent!
---
Had an amazing time at Evolution 2015, especially being a speaker for the SSB Breaking Barriers: Empirical, Theoretical, and Gender Issues in Phylogenetics Symposium
---
Getting ready for my talk at Evolution 2015 for the SSB -Breaking Barriers: Empirical, Theoretical, and Gender Issues in Phylogenetics Symposium (Tuesday, June 30, 3.30 PM)!
---
Fun times (with my jar of hemipenes!) at the AMNH Speed Science event last night!
Check out the write up of the event by the Wall Street Journal's Ralph Gardner HERE
---
Anyone in NYC from May 18-20, come have a drink at Pint of Science-combining bars and amazing science talks here in NYC. I'll be speaking about snake biodiversity on May 20 at Ryan's Daughter on the Upper East Side! Pint of Science
---
Big Furcifer oustaleti eating flies, taken last year from my hotel balcony in Tana.
---
Because it's such an important issue for herpetology and conservation, wanted to post a link to Andrew Durso's blog post on rattlesnake roundups
And, support events that celebrate rather than kill rattlesnakes, such as the Texas Rattlesnake Festival !
Obligatory cute rattlesnake pic (baby Crotalus atrox)
---
Check out this episode of Shelf Life, I have a small cameo at the end with a tiny Brookesia!
Watch it here http://www.amnh.org/shelf-life/shelf-life-turtles-and-taxonomy
---
Check the Discovery Room Program at AMNH here!
---
High school students India and Maya, who I work with as part of the AMNH Science Research Mentoring Program, working hard on snake morphology!
Learn how you can get involved here http://www.amnh.org/learn-teach/grades-9-12/science-research-mentoring-program
---
AMNH video (currently playing in the Hall of Biodiversity!) that talks a bit about the snake work we are doing in Madagascar!
Watch it here on the AMNH Youtube channel-CHECK IT OUT!
---
Just found out I was elected to the ASIH Board of Governor's, wooo! Thanks to Carol Spencer for nominating me! Looks like I'm in excellent company, see the election results here, http://www.asih.org/news/2014/election-results-2014
---
Check out the article in the new issue of AMNH Rotunda, highlighting some of the work Chris Raxworthy and I have been doing in Madagascar!
---
Wooo, check out the Ruane et al. 2014 Systematic Biology paper here!!!
---
Currently in Madagascar, Jan./Feb. 2014!!!!!!
Pseudoxyrhopus tritaeniatus, Ranomafana
First time Alluaudina mocquardi photographed alive!!!!!!!!!!!!!!!
The Alluaudina team at Ankarana!
---